Google and Bing Video Search Optimization
Customers don't always search by words. We live in a video world now.
The powerful search algorithms of Google and Bing's video & image search are wise things for businesses to take advantage of. With a striking image linked to key words, customers will be taken to your page – where they just might see something they like.
Whether it's a fascinating infographic, video, or animated gif, your website stands to gain traffic by telling its story with pictures. Our video/production team will design polished, shareable web videos for use on your page, and index it so it gets found on Google's first pages.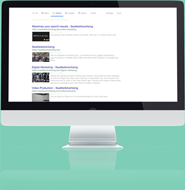 OUR APPROACH
Are you looking to boost traffic to your website? Do you want to add value to your social media posts?
When it comes to bringing people to your website, video search is a channel you shouldn't ignore.
Internet surfers who were browsing for something else can be turned on to your offers and messages in the middle of a search for something else. If the image they see is shareable enough, they'll dive right in.
We design the type of images that the internet and searchers love to see. We optimize them visually to make them stand out among the results, and apply text keywords that match what people are searching for. Even if your viewers don't click through to the website, the images we make will be so unique that they can only be traced back to you.
We follow professional-standard composition and color guidelines.
We use our marketing knowledge to provide you with clickable images.
We work the images into your website with keywords that will get image search results.
We tailor images to image search habits.
We economize image creation for faster page loads.
We help your website stand out from those that use stock images.

Strategy
GOING THE EXTRA MILE
Getting you the best image search results starts with creating images that are completely your own. Once we design your image with professional composition and design concepts, we condense the image for faster loading – when looking over pages, seconds count. We provide your image with strategic titles and alt-text, which puts your image higher in the ranks for searches of terms related to your product.
We take into account the look and browsing experience of your website to strike a careful balance between key strategic graphics and text. Even background graphics that aren't the star of the show can be optimized to help your rankings.
We apply the same optimization strategies to pictures you share on social media as well, so wherever your customers find your image, the trail will lead right back to your site. As customers discover that you're the source of great images, they'll stick around for more of what you have to say.
Opting to search by images instead of text indicates a completely different process going on in your customer's mind. Understanding this process is the key to making you great images.
Results
BOOST YOUR TRAFFIC
Once your optimized images are up, you can enjoy increased traffic to your websites, blog, and social media pages, increasing your customer base. We stay with you to integrate optimized images into your posts as they continues, expanding the channels by which your customer can reach you.
Ready to draw in new sets of eyes to your content? Let us paint the picture of growth. Get a free consultation today.